Hello, folks!

I am thrilled and honored to announce that I have been asked to speak at an event on April 6th at the United Nations in NYC! It's co-sponsored by Autism Speaks and the Permanent Mission of Bangladesh at the UN. I will be on a panel with three other speakers: Dr. Geri Dawson, the Chief Science Officer of Autism Speaks; Dr. Shekhar Saxena, the director of the Mental Health division of the World Health Organization; and Prof. Saima Hossain, the Chair of the Autism Advisory Committee on Autism in Bangladesh who is also the daughter of the prime minister.

The event will be attended by the Secretary General (who is giving opening remarks), as well as UN dignitaries and representatives from UN organizations (such as the WHO). The topic I have been asked to discuss is my perspective as a self-advocate and how international collaboration can help to deliver answers for the autism community.

This event is FREE and open to the public, so if you are in the New York area, feel free to come! Click the photo below to view the "Save the Date" flyer with all of the pertinent details (flyer is in PDF format).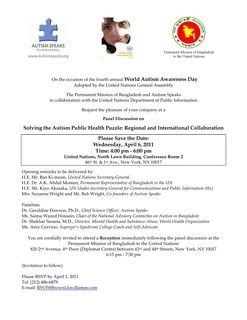 Also, be sure to watch for my next blog post, which will be my thoughts on the landmark episode of the TV show Parenthood, in which the parents of a character with Asperger's Syndrome tell the child about his diagnosis.